KNOW YOUR SOIL
PHYSICAL | CHEMICAL | BIOLOGICAL
Soils have three main properties: physical, chemical, and biological. These properties are all important for maintaining a balanced, healthy soil.
For the past 50+ years, the focus in modern agriculture has been on the chemical use of fertilizers, herbicides, and fungicides. To optimize land use, and to withstand the effects of changing weather (such as drought or heavy, excess rains), growers must give more attention to the physical and biological properties of their soil.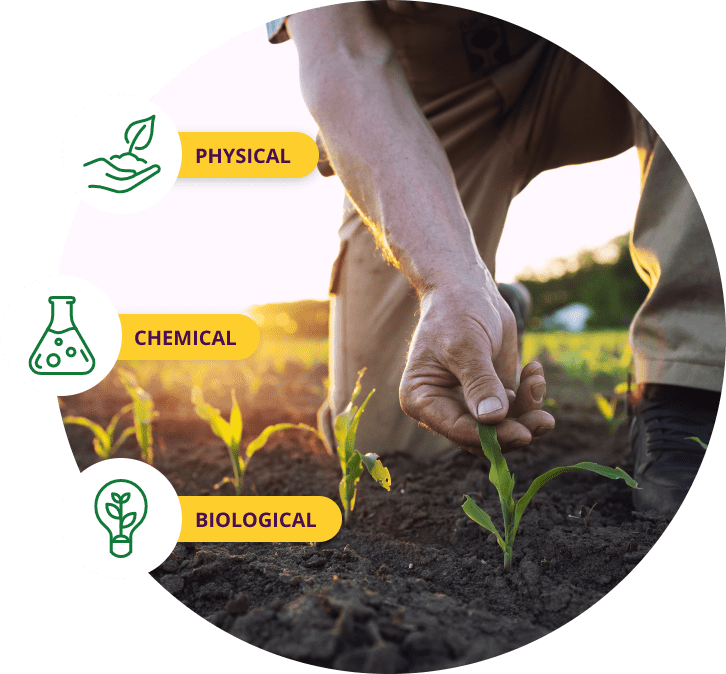 Chemical components in the soil are minerals (including nutrients), pH, and sodium. Growers must take these characteristics into consideration when making input plans for fertilizer rates, crop rotations, and higher salinity fields.
Fertilizer inputs have advanced; however, inputs vs. returns aren't gaining the yields they once did, and crop protection products are a requirement now more than ever before.
In general fertilizer usage, efficiencies are approximately:
The physical properties of soil are compaction, aggregate stability, water holding capacity, infiltration, moisture, and temperature.
Ideal soil composition should be approximately 45% inorganic mineral, 5% organic matter, 25% water, and 25% air.
Compacted soils lead to a host of issues, such as poor rooting, impaired biology and plant growth, less water infiltration, ponding, low oxygen, disease, poor nutrient uptake, and inhibited fertilizer efficiency.
Soil compaction can cause up to 10-50% yield loss. Poor soil conditions will exacerbate the effects of weather. Improving your soil health can minimize the damage done by unfavourable conditions.
Many living organisms make their homes in soil; these organisms all influence the soil, directly and indirectly. They contribute to various processes, including nutrient cycling, nutrient retention, water holding capacity, disease suppression, degradation of chemicals, improving soil structure, and creating biological diversity.
Soil biological processes are responsible for supplying approximately:
75%
plant-available nitrogen
Our Soil Smart Solutions™ works towards a balanced system, so that all properties of your soils work efficiently to improve your per seeded acre return.